National Association of DJs
(NADJ) Explained
The National Association of Disc Jockeys (NADJ) is a non-profit organisation assisting all types of DJs, including Karaoke DJs, in obtaining the highest standards in all aspects of their work. Their aim is to encourage and support the sharing of expertise, good practice and professionalism within the industry.

The main aim of NADJ is to promote to potential clients the huge benefits of choosing professional DJs to ensure they receive a high standard of service in every respect, thus making sure their event goes according to plan and that they and their guests enjoy top quality entertainment.

The NADJ website can be found at the following link:- NADJ
Why choose a NADJ member?
Booking an experienced and reliable DJ is a very important consideration when arranging any event. Unfortunately it is often a consideration that is overlooked or given little thought. Considering the impact a DJ has on an event, the process of selection really should be more considered. Selecting a DJ who is an active member of the National Association of Disc Jockeys should provide you with some confidence that you have selected a professional DJ who takes pride in providing an excellent service.

DJs who are members of NADJ are required to have all of their equipment Portable Appliance Tested (PAT) annually and to have Public Liability Insurance (PLI) in place. Proof of PAT and PLI certification is a requirement of membership.

Solar Entertainments are active members of NADJ and our membership number is M521.
Client Login Areas
Downloads
Important Advice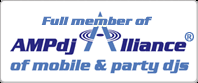 Terms & Condiions
Privacy & Cookies
Professional disco hire and karaoke hire in Cheshire, Derbyshire, Greater Manchester, Humberside,
Lincolnshire, North Yorkshire, Nottinghamshire, South Yorkshire and West Yorkshire.






Protected by Copyscape Web Plagiarism Scanner
Copyright © 2007 - 2020 Solar Entertainments, Eckington, Sheffield, Derbyshire. Telephone 01246 434161
Website and Marketing by Solar Entertainments